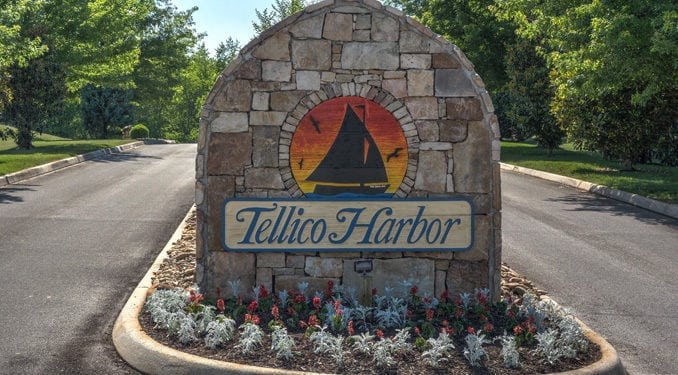 Tellico Harbor is located on the nine mile creek enbayment on Tellico Lake. The 166 parcels in the community offers lakeside living to its residents. The residents have access to a clubhouse, boat dock, and common area for their use. The Tennessee Valley Authority maintains a shoreline strip between the 805 elevation and 820 elevation along the community shoreline.
Within a half mile is the first class Tellico Harbor Marina with floating restaurant, boat launch ramp, dry storage facilities, and high quality slips for boats of most any size. The community and the marina have interconnecting roads for easy access.
The Property Owner Association enforces the covenants and restrictions. The restrictions on new homes is Architectural Review, no less that 1,600 square feet and stick-built.
The history and location of the community indicates that homes and lots are in high demand.
Take a moment and view the properties available in Tellico Harbor by CLICKING ANYWHERE in this paragraph – take your time and check the amenities. We hope you love East Tennessee, our lakes, and the beauty of Tellico Harbor as much as we do !
Tellico Harbor is close to East Lakeshore Trail and various manufacturing facilities for the boating industry. The boating industry includes SeaRay Boats, Bryant Boats, MasterCraft, Skier's Choice, Malibu Boats, Tennessee Watercraft, HydroSports Custom, and Christensen Yachts [scheduled for the future opening].
The East Lakeshore Trail is a 26 mile network of trails along the shore of Tellico Lake. The southern most trailhead of this National Recreation Trail is just a short distance to the North.
Residents of Tellico Harbor enjoy the benefits of no income tax in Tennessee including no tax on retirement income. Kiplinger recently stated that Tennessee is one of the top 4 states for retirement – tax friendly, low cost-of-living, and stable financial base of the state. The Mercatus Center at Mason University rated Tennessee eighth of all states for fiscal soundness. Monroe County property taxes are also very reasonable.