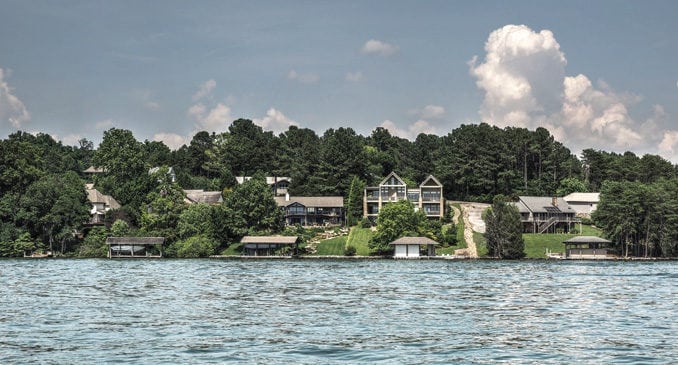 Foothills Pointe is located on the east shoreline of Tellico Lake in East Tennessee.
A short history of this community begins with three individuals purchasing a 110 acre peninsula in Greenback known as "Big Hill". They originally named the development "Foothills Village" only to later rebrand it as "Foothills Pointe". In 1987, they chartered the homeowners association and in January of 1988, 24 lots were sold to 15 families.
Today, there are a total of 195 parcels within Foothills Pointe. In 1988, the developers built three villas and the lakeside community clubhouse. Foothills Pointe Owners' Association members have access to two tennis courts, a salt water pool, community docks with approximately 60 slips, boat launch ramp, clubhouse and pavilion.
The architectural committee is required to review plans to any new residences. The minimum square footage for new construction is 1,400 square feet. Utilities include septic tanks with pump transfer, natural gas, electric and water for all lots.
Even from a distance – you can view the many homes available in Foothills Pointe by CLICKING ANYWHERE in this paragraph – take your time and enjoy the beauty of Foothills Pointe. We hope you love our lakes as much as we do !
Foothiils Pointe is close to East LakeShore Trail, and various manufacturing facilities for the boating industry. The boating industry includes SeaRay Boats, Bryant Boats, MasterCraft, Skier's Choice, Malibu Boats, Tennessee Watercraft, HydroSports Custom, and Christensen Yachts [scheduled for the future opening].
The East Lakeshore Trail is a 26 mile network of trails along the shore of Tellico Lake. The southern most trailhead of this National Recreation Trail is just a short distance away.
Foothills Pointe offers the boating community access to the Gulf of Mexico via the Tennessee River and other links to the gulf.
McGhee Tyson Airport is approximately 30 miles to the east. The interstate system in Knoxville puts more than half of the population of the United States within a one-day drive of Foothills Point.
Residents of Foothills Pointe enjoy the benefits of no income tax in Tennessee including no tax on retirement income. Kiplinger recently stated that Tennessee is one of the top four states for retirement – tax friendly, low cost-of-living, and stable financial base of the state. The Mercatus Center at Mason University rated Tennessee eighth of all states for fiscal soundness. Monroe County property taxes are also very reasonable.